#PRAYFORBOSNIA #PRAYFORSERBIA
My dear followers, I know this is fashion blog and you are used to see my daily outfits. But this time I need to share with you horrible situation that is happening in both of my countries, Bosnia and Herzegovina and Serbia. We are dealing with the worst floods ever in our history. Thousand of people have lost their homes, some of them even their lives. We need all the help we can get. Situation is still critical, but once this is all over, recovery itself will last for months. Exepct for praying for our people, I ask you to spread the words about this disaster so the world can see what is happening, and so everyone can help as much as they can.
Our governments have open accounts to which you can donate from foreign countries, even a one $ counts. It is nothing for us but it can be everything for somebody!
BOSNIA AND HERZEGOVINA
User: VLADA FBIH -FEDERALNO MINISTARSTVO FINANSIJA-FINANCIJA
IBAN CODE: BA391020500000106795
UNION BANKA DD SARAJEVO
SWIFTCODE:UBKSBA22
Ministry of Finance of Bosnia - special purpose account for the victims of the floods
Instruction for international payments
Beneficiary Bank: Unicredit bank AD Banja Luka
Bank address: Marije Bursać 7, BA-78000 Banja Luka, Bosnia and Herzegovina
SWIFT: BLBABA22
Beneficiary Name: Ministarstvo finansija: Jedinstveni devizni račun trezora
Beneficiary Address: Trg Republike Srpske 1 BA-78000 Banja Luka, Bosnia and Herzegovina
Beneficiary Account Nr: BA39 5517 9048 0118 3851
Purpose of payment: Financial aid for floods affected population and areas
SERBIA
Current account for help (City of Belgrade):
Special purpose account: 01-504103-100000300-000000-0000 - Grad Beograd - Sekretarijat za finansije.
IBAN: RS35908504103000030058.
You can find instruction for payment on the official site of city Belgrade
HERE
Let's be human! Thank you in advance!
_______________________________________________________________________________________
Dragi moji, danas sigurno nikome nije do mode! Uslijed alarmantnog stanja uzrokovnog nezapamćenim poplavama u našim državama, iskoristiću priliku da vas pozovem da svi pomognemo koliko možemo. Hiljade i hiljade ljudi je ostalo bez svojih domova, neki čak i bez života. Čak i kada se ovaj užas jednom završi, oporavak će trajati mjesecima. Ja direktno nisam ugrožena, ali svi ljudi koje volim jesu. Ako čitate ovo, znači da imate internet i da niste direktno ugroženi, tako da ono što svi možemo da uradimo je da pozovemo/pošaljemo poruku na dole navedene brojeve. Nama to ne znači ništa, a nekome će znaciti sve. Pozovite/pošaljite poruku onoliko puta koliko ste u mogućnosti. Čak i jednom je dovoljno, kada bi svi tako uradili pomogli bi nekome.
BiH
Pozovite
1458
M:TEL, donirajte 1KM
090 291 032
BH TELEKOM, donirajte 2KM
092 890 830
HT ERONET, donirajte 1,8 KM
SRBIJA
Posaljite SMS na
1003
za sve mreze, donirajte 100 din
Budimo humani!
Iz
Crne Gore
takođe možete poslati poruku 14543, jako efektan i ispravan plakat za poziv za pomoć
Humanitarni broj za
HRVATSKU
060 99 11 donirajte 6,25 kn
P.S. Upravo sam pročitala, da je samo u Srbiji putem poruka poslatih na broj 1003 sakupljeno više od 72 miliona dinara. Tako da nemojte misliti da jedna vaša poruka ništa ne znači!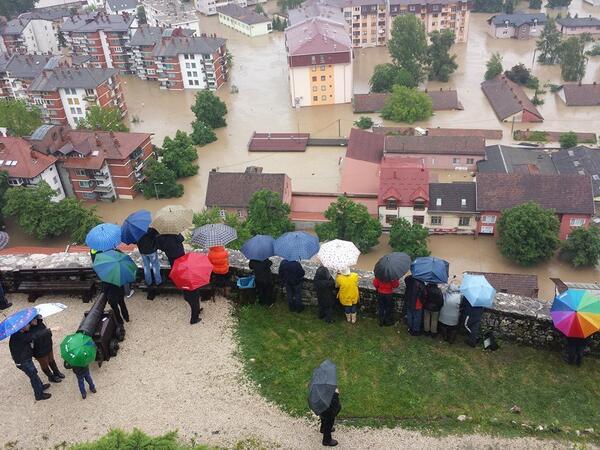 *All photos taken from Google